As most of you may know, we have been working on a redesign of the Pen and Paper (PnP) rules. This came about because of the total lack of standardized rules before. For the last month or so, I have been struggling to continue to write for the new rules set but have been suffering from lack of inspiration. Who knew it would have come in the form of that blank space in Games on our sidebar? I am hoping to solve two problems at once, killing two zombies with one shot, if you will. I need help finishing the new rules and there is no game in the Desolation forum. Therefore, I am going to open up a play test of the new rules system.
What's a play test, you ask?
Well, the intent here is to try out all of the new rules, take 'em for a spin before buying, so to speak, to kick the tires and test the brakes… enough with the car analogies. The eventual goal is to provide every one with a useable, easy to learn system presented in two guides, one for players and the other for Game Masters.
With this game, we will test each portion of the new rules and tinker with them until they work. To that end, I will present the players with scenarios that specifically relate to the new rules, we will find out what works and what does not, making adjustments as needed. I will attempt to string the scenarios along in a narrative form so we actually get a game out of this and not just a series of random encounters. Besides, we'll need to test the reward system anyways.
But the first thing we'll need to tackle is the new Character Application. Things are going to be substantially different from the current app, right down to the layout of the sheet itself. We'll build the new app together, step by step as we create characters for the play test, which reminds me…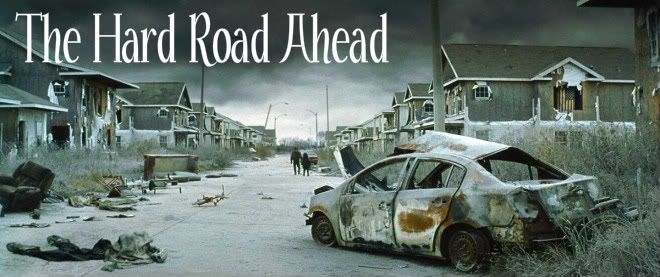 The Hard Road Ahead - New PnP System Play Test - THRA - ZS - GM - Vander
Game Type: ZS = Zombie Story
Game Summary: A group of survivors, in contact by radio, begin the trek across a landscape populated by the undead to a rally point, spurred on by the hope of travelling as a group to a reported place of safety and shelter from the coming winter.
Game Setting: In the Desolation forum, a post apocalyptic rural America of the very near future. The game will take place in an unnamed part of the Midwest, about 200 miles distant from a large city. The area is temperate rolling hills and river valleys, mostly farming land, with small densely forested areas, made up of an even mix of deciduous and coniferous growth. A large river system with many tributaries runs through the area. Many small towns and settlements dot the countryside.
Climate: The game will start in mid fall. The temperature gets to about 60 during sunny days and down to about 30 at night. It rains frequently. The approaching winter will be part of the impetus for the players to leave their safe location at the start of the game.
Plot Drive: The play test will be a mix of action and insight. Expect it to move slowly as we encounter situations that the rules do not yet cover, or changes that need to be made.
Player Dynamics: In order to test all the parameters of the system, we are going to try to include every conceivable way we can play together. The game will start with the players separated and attempting to link up with each other. This does not necessarily mean alone as I will have NPCs along for the ride. The idea is to make several small groups and then join up into one large group.
Cultural Information: This is going to be pretty much the standard vision of Post Apocalyptic America. The population centers, big and small, are hopelessly overrun. Lawlessness and chaos are all that remains of society. Mankind is reduced to small pockets of survivors, spread out and with no way means of contact, for the most part. It's just a matter of time…
Ambience: The outbreak began over two months prior to the start of the game. Everything is overgrown and unkempt. Crops are rotting in the fields. Packs of feral dogs, no longer man's best friend, roam the countryside, preying on the unchecked deer and rabbit population. Signs of the great violence and upheaval remain everywhere. Abandoned vehicles litter the roadsides alongside mass graves. A constant haze hangs in the eastward skies, a reminder of the fires that still burn in the cities and towns. The stench of rotting corpses is everywhere. It has been weeks since anyone has seen another human being but the Dead are everywhere.
Game Backstory
I suppose I had better start at the beginning… except it happened so fast… I don't really know where it all began. Who knew that one line being crossed would cause the entire house of cards to fall? I mean civilization, of course, and the line? Well, that would be where life ended and death began. Once that line became blurred and then disappeared, all hell broke loose. We humans forgot what it meant to be human and turned on each other, instead of uniting against the common enemy shambling up the driveway.
The big cities fell first. They didn't know what hit 'em. No one did. The first responders died by the hundreds. By the time any kind of plan was implemented, they outnumbered us. There was no winning. There was no holding the line. We abandoned the cities to the dead. We ran… but they followed. Or at least it seemed like they did. Truth was, we brought them with us. How many of us left the cities bitten or with a bitten loved one? How many stopped to bury them in shallow graves in the ditches and roadsides? How many came back while we were burying them?
It was so fast. After the cities, the suburbs fell, their descent into lawlessness and chaos hastened by the influx of city dwellers. Civilized behavior went out the window in the panic and we fell on each other like wolves. It was civil unrest on a global scale. We knew that much before the news stopped coming in. People barricaded themselves in with what supplies they had, waiting for their Government to save them, only to be attacked by their neighbors, desperate people trying to save their families or their own skins. The National Guard's efforts only resulted in more bloodshed and ultimately, more of the flesh eating ghouls that used to be our co-workers, friends and loved ones. That was when we learned the true depths of our plight. We learned that it didn't matter how a person died. They got back up anyway.
The ones that die of natural causes… I've taken to calling them Stalkers. Generally, they don't look as messed up as the ones that were killed by the Dead. They seem to be slower rotting too, don't know why. Sometimes, they are just as messed up as the other ones, due to whatever horrible way they died. You can spot a Stalker by the way they move. They seem more… deliberate than the other ones, almost like they walk with a purpose. For the most part, they don't move much faster than the other ones but are capable of short bursts of speed when closing in for a kill. They will follow prey relentlessly, pursuing a living person for days on end. They almost show a sense of self preservation and can display what seems like problem solving intelligence. I've seen 'em use rocks to smash windows out of cars, walk right up to doors and try the knobs, pushing and pulling on barricades and obstacles, like testing for weakness. And they just won't give up until they get a bite.
Those that die of the bites are the worst ones, the reason it spread so fast. It can't be loss of blood from the bite or bites; it has to be the infection. It doesn't take long for a bite to kill, the infection is that deadly. There were reports of people living up to 24 hours after being bit but the longest I have seen was 6 hours. The fever sets in right away and burns hot. They get weaker and weaker, and then the pain starts. They moan and whimper a lot in the last stages before death. I've seen it. I lost 2 of my own that way.
Once they die though… they get right back up. With the other ones, it usually takes an hour or longer for them to reanimate. Not those that die from a bite. Within minutes, sometimes less, they stand up and start shrieking. They look for the closest living being and tear after 'em. They can move fast as hell, full out sprinting at any food source and have no sense of self preservation or real intelligence. I have seen them run into moving vehicles, burning buildings and off a bridge. I watched one bash itself to pieces against my door, trying to get in. We call them Shriekers. Once they start making noise, it draws all the other ones within hearing distance. If they don't destroy themselves, they seem to slow down after 3 hours or so, when rigor mortis has set in. I had a vet friend tell me that. Lost him too…
The rest of them we named Lurkers. The victims of the other 2 types, people who have been chewed on and bitten, died from the resulting trauma and loss of blood… or have been partially devoured. They display only instinct and very little of that. They don't make much noise unless there is food right in front of 'em. If they move at all, they tend to roam around aimlessly. They are easy to lose and will wander away after pounding on your door or windows for a little while, as long as you stay quiet. They can be distracted by loud noises and bright lights. Alone or in small groups, Lurkers aren't much of a problem but they seem to have a tendency to follow each other around, collecting more as they roam. I've seen large groups of them, upwards of 50, just standing about in a dept. store parking lot or aimlessly wandering down a country road.
The real problem comes when one of these "rabbles" of Lurkers hears a Shrieker. They stop acting aimless the instant they hear that racket and head right for it. I watched that rabble of 50 or so bring down a building, a fire damaged 3 floor walk up. Whoever was inside must have gotten bitten and died. Once the shrieking started, all of the Lurkers in that parking lot turned and went straight across the street, attacking that building en masse. There was some gunfire but it didn't last long.
(This is a work in progress. The narration above is to give you a taste and I will continue writing it as we get on to making characters.)
Rules/Guidelines: We'll be detailing these as we arrive at them in game.
Vital Game Info: All players will start in their own safe house with their supplies dwindling. I am not going to restrict anyone in the type of character they want to make, so now is the time to get the super soldiers, serial killers and whack-a-doos out of your systems. I would ask that you keep it realistic, however. No supernatural crap or other such nonsense.
I do however, need some specific roles filled. I need a healthcare professional, a real outdoorsman type and a mechanic. I don't care who plays these parts and I don't care what kind of people they are, as long as they have the skills to make them good at their job.
GM Notes: There will be an entire thread dedicated to GM Notes. These will be very important, listing the changes we have made thus far.
Anyone that is considering GM'ing a PNP game here in the future should really get in on this. The experience will be invaluable and you'll be helping us create a game system for everyone to use. Please post your intent to join in below.