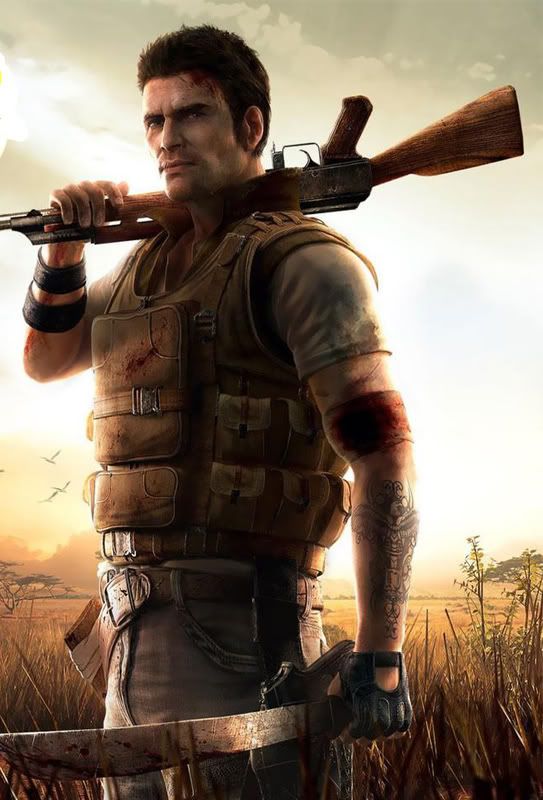 Name: Cero Cero Cuatro (or just Cero for short)
Gender: Male
Age: Mid-Twenties. He couldn't tell you exactly
Height: 6'3"
Weight: 12 stone
Hair: Dark Brown
Eyes: Hazel
Ethnicity: Mexican, or possibly Spanish. Again, he couldn't tell you
Birthplace: Like he knows...
Character Story: DIARY ENTRY 1: DATE UNKNOWN
Head stills hurts. It's foggy, clouded, I can't seem to think straight. Managed to find a safe place to hide out tonight: an old Motel, having barricaded one of the rooms. There's a fire escape I can use to get out. Don't know why I need to find shelter, it's just an instinct. Memories are emerging every so often. I remember tiny little details, insignificant, like the name of the school I went to as a kid, or my favourite colour.
Big details still haven't come back yet. Like my name, where I come from, and why I woke up this morning in a Humvee that had parked half-way up a goddamn telephone pole. I know some details as to what's going on in the world at present. Hell, just looking out the window you can tell something's not right. There are no people, no animals. It's utterly silent, in an unnerving way.

DIARY ENTRY 2: FIRST DREAM
The sun is rising on a dull, rust-coloured suburb on the outskirts of a huge city. Red for the blood that is going to be spilled. I look around and see I'm amongst men and women dressed in charcoal black clothing, that remind me of the overalls scientists wear in biohazard areas. I recognise their faces: these are friends.Only their overalls are covered in red, their faces scarred and bloody.
The hell does it all mean?

DIARY ENTRY 3: DAY TWO
Woke up with my hand on my pistol. Guess I'm a fairly paranoid person. Found a working bike in the Motel's parking lot, then found the keys in the employee's locker room. Don't really have an actual place in mind to head to, but I know I need supplies. There's a town not too far away from the Motel, where I stopped and scavenged together some food and even a couple bottles of water. Gas Station was dry, but I managed to get some out of the cars abandoned around the place. Somehow I don't think their owners need the gas anymore.
I found the machete about the time I first encountered the rotters. The word jumped straight into my mind the minute I saw them. There were three, a family by the look of it. Mother, father, teenage son. All lurking about this gun store I went into for ammunition. I grabbed the machete when they came at me, and took them out.
There's more of them, too.They're everywhere. In the houses. In the shops. In the cars. Staying the night in a tree. Not exactly classy, but at least the rotters can't reach me.

DIARY ENTRY 4: SECOND DREAM
I'm back at the same suburb, amongst the same group of blood-stained, dead looking soldiers I seem to consider friends. But there are others, too, unlike the others, without the charcoal suits and without their shirts. Onto their chests is carved the Omega symbol, and when I look down I see the symbol carved into my chest as well.

DIARY ENTRY 5: DAY THREE
First thing I did this morning when I woke up, again clutching the pistol on my belt, was check my chest. It wasn't just a dream: I have the Omega symbol carved into my chest, a deep, red scar. What it means and how I got it I don't know. But it's gotta mean something, I guess.
Continued along the road on the bike, stopping once to collect more fuel. Aside from that, nothing much happened. Holed up in the second floor of an abandond house that looked fairly defendable and isolated.

DIARY ENTRY 6: DAY FOUR
Fairly evenful start to the day, to say the least. Woke to found the house surrounded, not by rotters but by actual living people. Generally this would be good, but something told me that these guys weren't friends. I was right, too. They were dressed in green jumpsuits, like the one I woke up in on the first day, and they wore gas-masks. The minute they spotted me they opened fire, yelling "Traitor!" and "Heathen!" I fired back, killed two of them, and managed to get away on the bike. I'm sure they're following me, though. Probabley been following me since all this began.
How to fire the assault rifle came to me instinctively, too. I just knew how. Where to load it, where the safety was, how strong the recoil was. It's the first time I remember shooting it, and I took down two men in the first burst. It's pretty scary. Maybe I was a soldier.
But then why are these guys after me?

DIARY ENTRY 7: THIRD DREAM
Once again in the rust-coloured suburb, only this time there are bodies everywhere. The ones in charcoal suits all lie on the ground, their eyes sightless, blood leaking from gaps in their suits. The only ones standing are those with the Omega sign on our chests. There is a new man, who we all stand around. He's old, his hair white and in a military buzz-cut, and I can suddenly tell that this is a man I respect greatly.
Suddenly I'm arguing with this man, disagreeing. He's done something I cannot accept, cannot condone, and I'm telling him why. The others close in around us, and I see that I'm surrounded. Suddenly all these men are wearing gas-masks and green jumpsuits, like the men at the house. I turn and flee.

DIARY ENTRY 8: DAY SEVEN
Been keeping over the move these past few days. I stop occasionally for supplies and fuel, but otherwise don't stop for much. There are suddenly more and more of the rotters, still as slow as ever, but it's unnerving to see them everywhere you look. The past two nights I've woken up to find my safehouse almost surrounded, and have had to use my secondary escape route.
I'm also heading towards Los Angeles, I've discovered. Maybe this was my intention all along, like something subliminal making me move in that direction. But I'm moving to Los Angeles, and if it gives me answers, I'm not complaining.

DIARY ENTRY 9: DAY TEN
Came across what was clearly an execution today. Bunch of men nailed to crosses at the side of the road, all pointing towards Los Angeles. I recognise some of their faces, though I can't tell from where, but what really caught my eye was the Omega symbols on their chests. These guys must have worked with the men who attacked me.
But who killed them, and why? Why in this way?

DIARY ENTRY 10: DAY FOURTEEN
Los Angeles is less than a day away. I haven't seen any rotters, strangely. I was expecting the area around a major city to be full of them. Still no encounters with the strange, jumpsuit-wearing guys. I'm gonna get moving towards the city in an hour. Just stopped at an Outdoors Store to pick up some equipment and I looted a supermarket for supplies.
Time to get going.

Character Personality: Something of a loner, Cero is capable of working well on his own. His time spent travelling has given him a sense of danger, and he pays attention to his surroundings constantly. When amongst people, he comes across as quiet, almost shy. He finds it difficult to communicate with others, and is often loathe to approach them because of the markings and tattooes that cover his body and seem to get him attacked without provocation. Loyalty, however, is something that comes easilly to him, and he will not hesitate to protect friends and allies to the best of his ability.
Character Appearance: Cero is a fairly tall, imposing man with browned skin that suggests a South American heritage. His hair is very dark though not quite black (though a passer-by would think it was on a cloudy day) and his eyes are a hazel colour.
One unusual feature of Cero's is the tattoo on the back of his neck, reading 'Cero Cero Cuatro'. Hence the name. He's also got intricate tattoos on his left and right arms, quoting various Holy Scriptures. Another is the cross carved into his chest, leaving a deep red scar. This seems to get him into bother with a lot of people, though Cero can't explain why.
Other Physical Characteristics: None
Character Clothing: Cero dresses in a brown Kevlar vest, with several pouches in which he can store equipment, supplies and ammunition. Underneath this is a grey t-shirt stained by travel and the war (basically, it's covered in dirt, mud, dust and blood), and he wears desert khakis and military boots on his legs and feet. He tends to cover his t-shirt with a reddish-brown sleeveless shirt, just to hide the bloodstains and other unpleasantness. He wears fingerless leather gloves to give himself a better grip on weapons, and a pistol holster is on one hip, a sheath for his machete on the other.
Occupation: Survivor, as far as he can tell

Equipment: - AK47 Assasult Rifle, fully loaded

- Five spare magazines for AK47, held in bag

- Desert Eagle Handgun, fully loaded

- Three spare clips for Desert Eagle, held on belt

- Belt

- Belt holster

- Bag, carrying most of his supplies

- Ready meals, enough for three days

- Water Canteen, full

- Sleeping Bag

- Sleeping Mat

- Map of Los Angeles

- Compass

- Machete

- Sheath for machete, held on belt

Vehicle: Yamaha Dirt Bike

Advantages: - Alertness (lvl.3, -15 points)
- Danger Sense (-15 points)

Disadvantages: - Intimidation (appearance, the various markings) (+10 points)
- Shyness (+10 points)
- Stubbornness (+5 points)

Skills: ATHLETIC SKILLS
- Running (lvl.3, -12 points)
COMBAT/WEAPON SKILLS
- Assault Rifle (lvl.5, -15 points)
- Pistol (lvl.5, -15 points)
- Shortsword (machete) (lvl.5, -10 points)
OUTDOOR SKILLS
- Navigation (lvl.3, -12 points)
SOCIAL SKILLS
- Tactics (lvl.3, -12 points)
THIEF/SPY SKILLS
- Interrogation (lvl.4, -12 points)

VEHICLE SKILLS
- Motorcycle (lvl.5, -15 points)
REMAINING POINTS: 7

Attributes
Strength: 76

Stamina: 86

Charisma: 62

Dexterity: 30

Intelligence: 30

Perception: 78