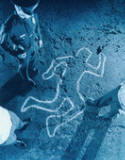 Alright, I just got this idea that in some ways copies already made ideas and movies, but so be it.
In this game, 5 (players at least, NPCs possible, but only 5 slots), are drawn into a game of death, for their own reasons. (Be it money, pleasure, kidnapped family, etc.) An organization that will remain unnamed and has plenty of money and connections forces people into these kind of games for their viewing pleasure . . . and perhaps gambling pleasure too. (Think the movie Rat Race, only murder)
The way it works is that these people will be thrust into the game in a small city, tasked with finding the other players and killing them. The winner gets 1 million in cash and of course any leverage back that the "Company" has. The losers die. It is a game I just thought would be interesting, because people would be actively going out to kill other players. It is possible that instead of being directly played from the board, it might have to be played by e-mail and then posted on the board by delay so players general locations were not given away.
Players will start with no weapons, but they have $5,000 to prepare, getting what they need. Each player is also given a cell phone. In the contact list is the numbers of all the other participants. You can call them and talk, if they answer. Set up a meeting to work together with someone? To trap them? Each player will also have a phonebook, so you can decide where you need to go to get what you need. Try a pawn shop to cut corners and get a weapon? Those background checks can sure be a bitch if you need a gun that minute. Either way, only one will survive.
----------
I could elaborate on it more but it's a pretty simple setup.
Possible character suggestions if the game goes through; death row prisoner to be rewarded with release if he wins, serial killer in it for the pleasure, one or multiple people forced into the game because family has been kidnapped, someone in debt who needs the money, etc. Or just kidnapped and forced to play.
Also if you're a person who usually just describes your character, I'd
also
like a picture on the application.
If
this actually rolls on and goes through and is interesting to members at all, I already have future ideas. KobK could have more seasons, just different locations (with the champ possibly returning, characters choice), or completely different gimmicks. Such as being forced to work with teams against other teams, or who can rack up the biggest killing spree in a limited amount of time. All kinds of morbid shit out there to think up
.