[ Total Exp: 73 points ] [ 12 points added 09.08.11, page 15 ]

Name: Richard "Salty Dick" Gorton

Gender: Male

Age: 62

Height: 5'9''

Weight: 205

Hair: Silver

Eyes: Blue

Ethnicity: Caucasian

Birthplace: Midnight Cove, NE

Character Story: Richard Gorton was born and raised on his parent's permanently docked boat house parked in the shallows near the marina. His childhood years were spent running about the docks, exploring the waterways and shores, watching and talking to gruff veteran fisherman filling his head with stories of giant sea life, survival on rough seas through terrible storms, and beating other folks senseless in drunken rage. Thus Richard grew up shaping his life to be exactly that. A seasoned fisherman with more stories than a gossiping grandma with a pair of binoculars.

Richard's home life was a little less than glorious. His mother was a neglectful legless wheelchair-bound stripper (use your imagination). His father was a part-time self-proclaimed war hero named Royal Navy Colonel Willowby McTavish, veteran of the first world war--a product of severe alcoholism. He was a drained shell of a man making his living as a dock smithy.

At the age of 18, Richard took up a job as a ship hand on one of the larger fishing boats in the area. Full of youthful energy, and ready to get out there and really make a name for himself. It was rumored that he once dove into the water chasing after a 6 foot bull shark that broke free of the line and was poised to escape. He punched the shark repeatedly in the face, rammed his knees into it's gills, and even bit the creature. Yes, he clamped down his teeth through it's leathery skin and tore away a chunk of it's snout. Muich like a sea-born version of Evander Holyfield. Upon beating the monster senseless, he drug it bag to the ship, and slung it's lifeless carcass up onto the deck.

Rediculous? Maybe. But this is one of many stories told about Richard, who later gained the nickname "Salty Dick" for his off color language, and poor attitude. Salty Dick became a local legend, though he had very few loyal friends, in his later older years, he had a nack for making enemies. He never had much time for women (at least the ones he didn't repulse with his vulgar-ridden cat calls), and found children and animals to be a useless nuisance unless they were put to work. Being an old fashioned dirty bastard, he also hates significant change in any part of society.

Give him a good pint of navy grog, and he'll start a fight with the biggest, meanest looking bastard in the room. Just because. Give him a few more, and you'll find him outside, in some back alley, squaring off with a tin trash can just because he stumbled into it in a drunken stupor, and accused it of being lazy. This is how Dick lost his eye, despite whatever story he'll make up to tell you. He was drunk one night, and fell over, and impaled his eye socket on a barnacle encrusted aluminum cleat on a floating pier at the Marina. No one knows where his leg went. There are rumors that say it was from animal attacks, occupational accidents, even one that says a gangrenous hooker humped his leg and he eventually cut it off himself to prevent the spread of disease. It's all still a mystery and he can never give you a straight answer.

These days, when he's not passed out near the local pub, Dick can be found around the docks trying to make a living from fishing, and selling his catches at the nearby fish market.
One night, upon returning to shore after a long day's fishing trip, he found the town to be in chaos. People were acting strange, attacking him, the dead lay everywhere. He grabbed the nearest thing to him, a rusted iron fishing spear, and skewered his way through the rotting masses. He made his way to the only building with lights on-- the hospital. With a gulp of his flask, a light of his pipe, and a scowl that could make evern Gregory Peck tremble with nervous desperation, he begins his new story…

Character Personality: He's a grumpy old asshole. Not much else has to be said, really. In his old days, he's mostly all talk, not having the physical fitness to back it up like he did when he was younger. He's also very stubborn.

Character Appearance: Rough, wrinkled face, an eye patch, yellow raincoat suit, and a rather large corn cob pipe, almost always lit, and hanging out of his mouth. He's also sporting a ridiculously cliché wooden leg. It's Protected from the weather and salty air with ship deck sealant.

Other Physical Characteristics: He's got his fair share of work related scars. There are numerous ones around his body. Many of which have a story or two associated with them.

Character Clothing: Yellow raincoat suit over soiled cotton longjohns with a set of waterproof pants and suspenders. He's also wearing a yellow hat, and a pair of rubber steeltoe fishing boots.

Occupation: Fisherman, Drunkard.

Equipment:

-seemingly infinite supply of pipe tobacco
-corn cob pipe
-box of matches
-small metal flask (12oz.) filled with rum
-rusty iron fishing spear

Vehicle: His boat, the SS Moneypenny. It's an old rusty 30 foot fishing vessel running off of an inboard diesel engine. It's located in the Marina. On his boat he has flares, nets, rope, harpoons, and other various fishing equipment. There is also a wide-range radio….useful if you can get to it.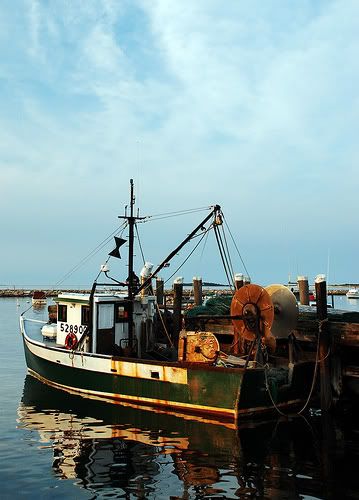 Advantages:
Absolute Direction- 5 points
Common Sense- 10 points
High Pain Threshold- 10 points
Intuition- 15 points
Luck- 30 points
Strong Will- level 12, 48 points


Disadvantages:
Addiction [ nictone, heavy smoker ]- 10
Age- 36 points
Alcoholism- 20 points
Bad Temper-10 points
Foul Mouth [ bad language ] - 5 points
Honesty- 10 points
Intolerance [ children ]- 10 points
Intolerance [ animals ]- 15 points
Intolerance [ women ]- 10 points
Intolerance [ change ]- 15 points
One Eye-15 points
One Leg- 25 points
Overconfidence- 10 points
Stubbornness- 5 points
Truthfulness- 5 points

Skills:
Brawling- level 2 - 4 points
Net- level 2 - 8 points
Spear- level 2 - 6 points
Mechanic (diesel marine engines.)- level 8 - 24 points
Shipbuilding- 4 points
Fishing - level 8 - 16 points
Navigation- level 8 - 32 points
Seamanship - level 8 - 16 points
Gambling- 3 points
Detect Lies- level 2 - 8 points
Boating- level 8 - 28 points
Driving (fishing vessel)- level 8 - 24 points



Strength: 67

Stamina: 30

Charisma: 94

Dexterity: 30

Intelligence: 75

Perception:71