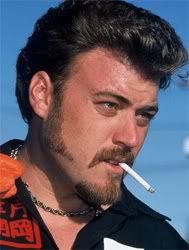 Name: Paul "Hatchet Face" Mackenzie
Gender: M
Age: 34
Height: 6'
Weight: 280lbs
Hair: Dark Brown
Eyes: Green
Ethnicity: Canadian
Birthplace: Yellowknife, NT, Canada
Character Story: As told by several drunk old men in a bar one evening in central Yellowknife.
Old man Lahey slams his glass down on the bar, drops of ale escaping his frosty mug and landing on the polished wood around it.

Ya know I saw that crazy Mackenzie fucking about near the old angler's shed near Jackfish Lake...he looked like he was stood out there drunk as a fucking skunk. He had a rod in his hand, but I thought he was just swaying in the wind....until a monster catfish hits his line. He must have fought it for an hour before he managed to wrestle the bastard ashore. This thing was at least as long as me. He left it flopping on the bank and went to his skoda and pulled out a rifle. Well, sure as shit a fucking grizzly comes bounding up for a meal, but Mackenzie wasn't having any of it. He flipped the gun around, grasping the end of the barrel and swung it like a bat, catching the bear on his jaw, and sending him reeling. Of course this only pissed the beast off, as it stood up on it's hind legs, and must have been no shorter than 12 feet....any smart man would have ran for it, but no....he just stood there, walked over there all non-chalant...and kicked the bear right in the fucking nuts..."There's no such thing as a greed brunch, ya fucking shit-rizzler." He shouts....and the bear just limps off howling...."




Randall Kohl grins as everyone has a chuckle. His nickname was Shit Break because he always disappeared from the job sites to go hide in the bathroom. He always told everyone he had a case of IBS, but they knew he was full of shit. The problem was that he was allergic to manual labor.




Well that's nothing, old geezer. I saw the son of a bitch come into the corner store once, stoned out of his gourd...some newcomer in town just happened to be there promoting some kind of small business initiative. Paul comes rolling in like he just crawled out of a drainage ditch and demands a roll of tinfoil, some cooking sherry, and the biggest cucumber they could find....The chick turns around, clearly offended on all of her senses, and says "You should consider cleaning up your act. Maybe that would help this town grow into something more than trailer trash haven."....He reaches into the front of his pants, and says "knock, knock..". Chick goes "Who's there?"...he yanks his hand out of his pants, gesturing a middle finger, and sticks it right up her nose..."My balls, ya fucking idiot....now get me a fucking cucumber or get out of my face."




The bar erupts into laughter. Another man pipes up, this time it was Mr. Sheldon, who owned the lumber mill out near the old diamond mines..."Ah that ain't got nothing on this, Shit Break"....he takes a few big gulps of his beer, and sets it down, and begins his tale....




So Mackenzie and his brother go a moose huntin', eh? But they had drank a couple cases of Molson's and got lost. It started to get dark on the lonely tundra, and they were tired and hungry. His brother spots an old lodge on a ridge in the distance. They head out that way, and Hatchetface knocks on the door. The ugliest old squaw ya ever did see answers...and they ask her if they can shack up there for the night till morning so they can go find the truck. The old crone says "Sure but one of yas is gonna have to give me the high hard one..."....Paul stares at her for a minute and says "Well, my dick is too small, I mean...like cocktail weiner size, but freddo here has the biggest man sausage you seen this side of Toronto." Fred punched him in the ribs, and interrupted and says "We'll flip a coin for it, eh?"




He draws out some silver and flips it. Of course poor Paul loses, and has to follow the winkled shrew upstairs. They come to this cozy loft, where the old squaw has her winter food stored... and old Hatchetface in a spot of luck, he finds a stack of drying corn ears. Giddy as a goose, He ran her burnin' loins through with the corn and tosses the used soggy ears over the side of the loft.




The next morning they leave and ol' Freddo has a wide grin on his face... Hatchetface says "Whats so funny?"




"Well, while you were up there taking one for the team I was down there eating hot buttered corn on the cob..."




The whole bar erupts with laughter, people slinging drinks and spit and peanut shells everywhere. And the legend of Hatchetface Mackenzie was born....


Since the outbreak, Paul and his brother Freddo roamed around canada, scrounging, fighting, and looting whatever they could. While they were refueling at a gas station, Fred was inside looting whatever snacks he could find and ended up getting bitten. Despite Fred's pleas for his brother Paul to kill him, "Don't let me turn into one of those things, eh?"...He couldn't shoot his own brother. He kept him chained up and muzzled in his backseat even long after he had turned. He still tried to talk to his brother, even though he clearly wasn't what he used to be.


One week ago, As they were trying to cross the border into North Dakota, his zombie brother was shot in a confrontation with some survivors acting as border patrol. Distraught over his death, Paul raged, chopping every one of them to death with his hatchets. He stood over his dead brother's corpse, yanked the chain from his neck and put it on. He then got into his skoda and putted off down the road heading south, smoking what was left of a joint and listening to a tune droning on from his stereo....







Character Personality: Paul takes bull-headed, often foolish approaches to even the most simple situations, making things more complex and difficult than they need be. He's what most would consider an idiot. He only completed up to grade 10 in school, and dropped out to pursue a ludicrous hydroponic pot growing business with his brother Fred. However he's not completely useless--He has enough survival know-how from his hunting adventures growing up in the Northwest Territory to make up for it. Most folks say he's made it this far through sheer luck alone.
Character Appearance: Paul is a big hairy canadian redneck. Slightly overweight, rediculous hair, and a horribly crooked and misaligned set of teeth...which is why people call him "Hatchet Face".
Other Physical Characteristics: Paul has a tattoo of a skull wearing a plaid winter hat with ear flaps, and two strips of bacon just below it in the form of an "X". The mighty unflinching "skull and cross bacons".
Character Clothing: A pair of white long johns, covered by denim overalls, with a large leather belt. A pair of leather hiking boots with steel toes. a plaid winter coat, and a pair of cheap sunglasses akin to the Blues Brothers. He's also wearing a blood stained gold chain that used to belong to his brother Freddo.
Occupation: Paul worked at a lumber mill in Yellowknife for several years, however after a work related injury where he lost the thumb from his left hand, he sat at home, collecting workman's comp and disability until the zombie disaster--then he became a self employed "exterminator".
Equipment: On his belt, Paul has two very sharp hatchets, one for each hand. He also has an old yugoslav SKS slung over his back with a bandolier full of loaded stripper clips containing 100 rounds of ammunition (10 stripper clips with 10 bullets each). He also has a flip lighter, and a shake flashlight. In the trunk of his car is also a spare auto battery, spare tire, various belts & hoses in used condition but intact. There is also a small toolbox with various sized wrenches and a small roll of duct tape.
Vehicle: 1986 Skoda 120 GLS. Paul coated the body in rhino-liner. She has a full tank of gas and the hood is adorned with a huge moose skull. In the car is a case of Molson Canadian, a pack of cheap cigarettes (two of which are his last marijuana joints), and several scattered cassette tapes, ranging from Gordon Lightfoot to The Tragically Hip. In the back seat floorboard rest two withered pot plants, devoid of any buds.
Advantages: (56)
Strong Will - Rank 4: 16 pts.

Unusual Background: 10 pts.
Absent Mindedness: 15 pts.

Addiction [Marijuana - mild]: 5 pts.

Addiction [Nicotine - moderate]: 10 pts.

Alcoholism: 10 pts.

Anti-Authoritarian: 10 pts.

Clumsy: 10 pts.

Foul Mouth: 5 pts.

Laziness: 10 pts.

Overweight: 5 pts.

Stubbornness: 5pts.
Axe [Hatchet] - Rank 5 - 15 pts.

Brawling - Rank 5 - 10 pts.

Rifle [SKS] - Rank 5 - 15 pts.




Craft
Mechanic [Auto] - Rank 5 - 15pts.




Outdoor
Fishing - Rank 3 - 6pts.

Survival [Forest Tundra] - Rank 5 - 15pts.




Social
Carousing - Rank 5 - 15pts.




Thief/Spy
Lockpicking - Rank 5 - 15pts.

Scrounging - Rank 5 - 10pts.

Streetwise - Rank 4 - 12pts.
Strength: 100
Stamina: 92
Charisma: 30
Dexterity: 69
Intelligence: 30
Perception: 42
[ Skill points remaining: 1 ]