Name:

Gavin "Takeshi" Okada
Gender:

Male
Age:

22
Height:

6'0"
Weight:

155 lbs
Hair:

Black
Eyes:

Brown
Race:

Asian (Japanese)
Birthplace:

Honshu, Japan
Character Story:
(education, occupation, how they survived, etc.)
The first years of Takeshi's life was spent living with his parents and his grandparents in the least populated prefecture of Tottori in Honshu, Japan. Born Takeshi, which was later changed to Gavin. He remembers being loved and doted upon by his parents and grandparents alike, being the only child of an only child as he was. His father had no family left on his side, and so he considered his wife and son and her mother and father as his own too and he was heartily accepted by them too.
Although not a rich man, seasonal fishing and waterfowl hunting kept the entire family living cofortably, in Takeshi's grandparent's farm. His mother and grandmother brought in extra money with their expertise in traditional kimono making, and his grandfather was the best netmaker in four districts.
Takeshi was happy there, doing good in school and having many friends. His clearest and best memories of those times was the Tottori Sand Dunes that were less than a mile from his grandparent's farm. He remembered how cool and beautiful they looked in the morning, scorching white hot in the day, and dark and mysterious at night. His parents were well aware of his fascination with the dunes and were vigilant in keeping him in sight whenever they went there as a family. Especially after he went missing for 2 hours when he was only 6, because he'd forgotten to stay in sight and had wandered too far.
From such a young age their son's interest in nature gave them the idea that he would probably be a scientist of some kind, and his teacher confirmed it with his repors of how intelligent and inquisitive their only son was. Determined to give him every opportunity, his father sold his boat and signed on as a lowly deckhand on another's fishing boat. Takeshi was sent to a private school in Japan when he was only 8 years old, where he lived 9 months out of the year. At first, he was very unhappy, missing his family and the dunes so much. But as the demands of the school challenged him more and more, and wanting to make his family proud, Takeshi soon excelled there as he did at home. But he was still fighting his homesickness and bullies who thought he would be an easy target because they thought that coming from such a small isolated part of Japan meant that he was slow or stupid. Takeshi soon showed them there was nothing slow or stupid about him, both in the classroom and on the playgrounds.
When he was 10, his mother and grandmother decided to move to Japan with him during the school year to support him and it helped Gavin to focus even more, having them there. His father and grandfather were usually so busy with fowl hunting and fishing season during this time that it was decided that the two women would do this every year.
When he was 12 his grandfather died of a sudden heart attack, throwing the entire family and their village into shock. He was such a well-loved and respected man by all. While still dealing with that loss, the boat his father was working on was lost at sea during a storm that had turned out to be worse than originally forecast. Without their income, they could no longer maintain the farm or pay for Takeshi's schooling. Help and handouts by their neighbors were barely tolerated by his overly proud grandmother. One of his professors took pity and offered to pay for a small apartment in Tokyo and helped Gavin to win a scholarship that would allow him to continue his schooling. Refusing to be indebted to the kind, yet foreign man, Takeshi's grandmother sold her farm and moved them all to Tokyo.
Professor James Colson was loathe to lose Takeshi and what he thought was a budding genius for the worlds of Geology and Archeology. Helping Takeshi so much brought him in contact with Takeshi's mother Sayaka, a lot, and to Takeshi's delight a budding romance began to flower between them. The very next year though, Colson's father passed away and he had to return to his hometown in the United States. And though Takeshi missed his mentor, he continued to excel at school while his mother and grandmother found work in Tokyo at a textile factory.
Despite daily calls, Colson was back in Japan just a month after his father was buried, claiming he couldn't stand to be away from Sayaka any longer. Within the year, the two were married in a traditional Japanese ceremony. Within a year after that, James Colson convinced his mother and grandmother that there were better opportunities for Takeshi in the United States, specifically his home town of Prescott Valley, Arizona. Takeshi was excited to move to the states, and especially excited about seeing the deserts in Arizona.
Moving to Arizona seemed to be a mistake at first, because right off the kids in school were harassing him for his 'funny english' and the way he acted. Takeshi had made the mistake of bowing to his teach on the first day of school, and the other kids never let him forget it. In their first summer James moved them all to an up and coming suburb called Stone Ridge. To try and make his life easier, Sayaka changed his first name to Gavin; after one of her favorite characters in the American soap opera As The World Turns, and Takeshi who was now Gavin practiced his English every day.
Stone Ridge is where he met Lance and Alonzo. At first, his mother and James weren't happy with his new friends, not liking Lance's spoiled attitude and Alonzo's brash openness. But Gavin's mother took pity on Lance after Nancy McCray passed, and began to treat Lance and Alonzo like they were her sons too. To his credit, Sayaka and James were the only adults, other than his father, that Lance never disrespected, and Alonzo followed suit.
In high school the boys made more friends, but none shared their love for adventure and exploration. These other friends especially hated it when all the three wanted to do was go hiking in the deserts or foothills of Arizona. However, when they got into Arizona State, they met other kindred spirits, and their group had many brushes with near expulsions and a couple of misdemeanors with the local police. Girlfriends came and went, and shared vacations to places outside of Arizona kept the core of the group tight with each other.
Appearance:
(other details that you'd like to describe; eye shape, lip shape, major details, etc.)
Although he's never had problems with women, Gavin doesn't really care about his looks or appearance. However, because he was primarily raised by women he is a bit more neater than the average male of his age. The only thing he does take notice of with his appearance is his hair. Mainly because his mother always said that because of his longish hair, Gavin reminded her of his father a lot. And having nothing else to remember his father by, Gavin keeps his hair a certain length in honor of him.
Other Physical Characteristics:
(scars, tattoos, birthmarks, etc.)
Gavin's hands are callused from years of hiking and roughing it in the wild. He has a japanese character tattooed to his upper right arm that reads 'Okada' in honor of his father.
Clothing:
(specific outfit or style)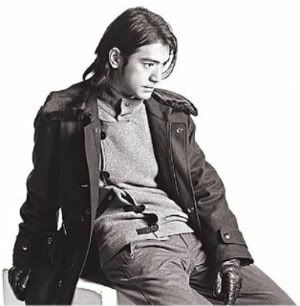 Gavin prefers loose, comfortable clothing in earth tones. He has 2 leather jackets he wears almost everywhere. One black and the other a butterscotch color.



Personality:

Gavin is mostly quiet and laid back, but can banter with the best of them when the mood hits him. He does tend to go quiet whenever he's working on a problem or thinking over an idea.
Strengths:
(skills, abilities, etc.)
- Camping
- Hunting
- Climbing
- Hunting rifles & handguns
- Hunting knives
- Environmental knowledge of desert terrain

Weaknesses: (personality disorders, handicaps, phobias, etc.)
- Claustrophobia (undiagnosed; unrealized)

Starting Equipment: (weapons, cigarettes, canned food, vehicles, etc. try to be specific.)


(not sure what you have planned Bas, so I'll let you assign my equipment.)