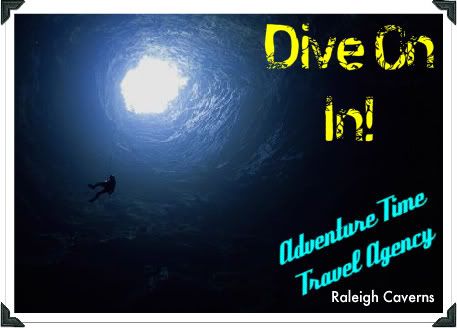 Mark Smith (NPC)
Age: 38
Height: 5'8"
Weight: 170 lbs
Personality: Happy, charismatic, optimistic. Easy to befriend, hard to offend, but once betrayed or mistreated, unforgiving. Avid outdoorsman, confident in his skills.
---
---
Raleigh National Forest - Clearing - Pit Entrance
0728 Hours September 16, 1986
"Okay folks! Looks like we're going to have a great day for hiking. Just got a couple more pointers to go over, if you'll please come on over." Mark said, as the group he'd been hired to guide walked over to stand in front of him in a loose semicircle.
He acknowledge his boss, Mr. Morris, with a nod, before turning to smile warmly at the others, giving an extra tweak of his lips when he came to Miss Thoulson. Although he'd only known her for the length of a short helicopter ride plus some introductions, Mark knew he was already smitten with her. He found it hard to believe she wasn't married. He not only found her beautiful, but just from watching her in the short while that they'd been in the clearing after the helicopter had dropped them off, he could already tell she knew what she was doing. And yet, she still had a classy air to her that he knew would maker her right at home in a boardroom just as she was out here in the woods.
When DeeDee at the Lazy K had told him about some richies needing a guide to the caverns, Mark had been a little wary at first. For one, the caverns were actually on Raleigh Hospital land which in turn was owned by the almighty Wilson Raleigh, who made it more than abundantly clear that no one was allowed in his caverns. But he was also not looking forward to taking that risk with a bunch of greenhorns that were likely to break their necks in those caves.
In his mind, naturally made caverns like the ones on the Raleigh land were a gift from Mother Nature, and that hoity-toity Raleigh had no right to restrict access to it. Not willing to just pass on a good payday though, Mark went to meet with Morris and Daly at the Bed and Breakfast, and the moment he'd heard how much Morris was willing to pay him for his services, Mark had immediately agreed, and here they all were.
Morris had hired Jimmy Redfeather and his rickety old helicopter to take them most of the way up the mountain. But because there were no other clearings closer, and because Mark didn't want to get spotted from the hospital, he'd had Jimmy drop them off a good 2 miles away from the cavern entrance. He knew that hiking through the denseness of Raleigh National Forest could make 2 miles feel like 5, especially when hiking with greenhorns, but Mark was growing more and more pleased with this group of 'richies'. They obviously had tons of experience, and Mark knew he really was there to guide, and not to babysit.
"The entrance to the caverns are roughly north, northwest of us from here. The ground will get steeper and rockier the further up we go, but shouldn't be too difficult for any of us. When we get close to it, I'll need you to all fall in behind me as the cavern entrance is a pit, but cave-ins have been known to happen around that area, making new entrances. One minute you could be walking on firm rocky ground and the next you could be falling hundreds of feet to your death. So please don't fight me on this when the time comes."
The group nodded at him. Even the robust, authoritative Morris smiled in acknowledgement and approval of Mark's instructions. Pickel's eyes widened in excitement behind his geeky glasses, and Bateman sneered slightly but they all nodded their understanding.
"So, here we go!" Mark called out happily as he turned and led them into the fringe of the forest, the early morning light fading slightly and the temperature dropping a degree or two also.
Mark breathed in the soothing, cool smell of the forest and was happy to be there. He always did love this forest and he especially loved the caverns. He'd explored it a little bit on his own, but was smart enough to never push too far in on his own, knowing that if anything were to go wrong he'd get no help. But now he had what seemed to be a group of experienced people and they were going to the caverns. Maybe this time he'd get to explore much further than he ever dared to go.
After two hours of hiking, the trees and vegetation began to go sparse and then the soft forest ground turned to rocky slides and scale-able boulders. Mark called for the group to fall in behind him, and they all immediately complied. Working their way up slowly, scrambling over the scree, Mark finally called a halt and the group came to gather around him.
"There it is."
They all turned to look down a long slope of loose rock and sand, and saw a nearly perfect circle in the ground, about 12 feet in diameter.
Morris rubbed his hands together eagerly. "Finally."